Clients
Intelligent Energy Solutions for Industry Leaders
We have a solar power solution for every commercial or industrial energy consumer in Brazil.
With Brasol's solar-as-a-service solution, Clients can reduce their energy costs, minimize their exposure to changing energy prices, and assert their commitment to sustainability without any capital investment.
Brasol's turn-key solution means we take care of everything—development, construction, and operation—and let you enjoy the savings.
We follow 200+ rigorous criteria to ensure sure every project is build and operated with a best-in-class standard, and guarantee your savings, so you can go solar without any worry.
Our solar solution is a good fit for industrial and commercial consumers, whether you are in the free market (ACL) or captive market. We provide on-site and remote solar plants and can adapt our solution to your needs. Warehouses,supermarkets, shopping centers, franchisees, storage centers, hospitals, hotels, manufacturers, and many more Clients can all save with solar.
If you're interested in exploring solar for your business, please contact us.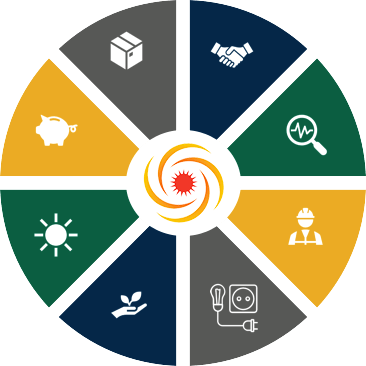 Reliable Partnership

The team of brings global experience with over USD 1 billion invested and over 800MW of projects developed in 13 countries.

Real-Time Monitoring

Our real-time monitoring and maintenance operation ensures your project operates at maximum efficiency.

No Operational Risk

Brasol is responsible for total management, operation and maintenance of our projects leaving our clients without operational risk.

Distributed Energy Solution

We offer a full range of energy products and services to attend to a wide range of client energy needs.

Global Best Practices

Brasol follows 200+ strict criteria to guarantee that all of our projects are built and operated with best practices from the global solar power sector.

Sustainable Solution

Our solar and energy efficiency solutions are important components of a commitment to sustainability and corporate responsibility.

Immediate Savings

The projects are designed to generate savings immediately and in the long-term.

Solar-as-a-Service

We take complete responsibility for project implementation and operation so our clients can focus on their business.